I just got back home from an extended vacation/business/family visit. I was able to visit several cool places and
some gay saunas & bath houses, too.
Most recently was Flex Atlanta. Abe (above) reports that the one is Phoenix was too dark for his tastes; however, Flex Atlanta was quite different. Actually, it was one of the more exciting ones I've been to in a while - although it was just a Tuesday night in Atlanta.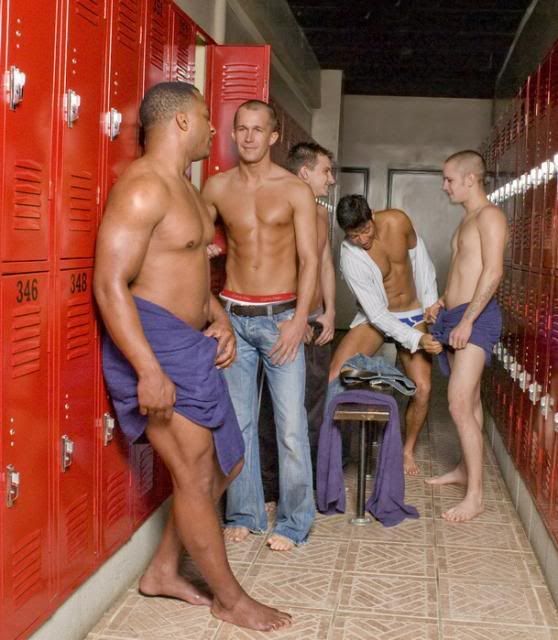 I was impressed most by the size and layout of the place. For me, being able to sunbathe nude and erect, or to have sex outdoors is a big turn on.
Flex Atlanta is a little known enclave that can boast an outdoors lawn with chaise lounges just next to a busy expressway (I-75) and almost in the shadow for the Olympic Torch Monument and several skyscrapers. I did wonder a bit if the people in the high rises could (or would) actually be looking down on Flex's sexual garden. The staff was helpful and friendly; there was free Internet access (although I don't think free wifi), and both a gym and pool (although the water condition was excellent it was nice to swim in later March, and sunbathe naked in the afternoon. The place didn't get hopping but it had free parking and also in-out privileges, twice in the 8-hour that your entrance fee pays for. There's an Arby's at the corner so you can get food before entering or take a break to go for take out.
The cost was quite good too compared to other baths. ($15 or $20 rooms, $10 lockers but 50% off on Tuesdays) although there is an additional day membership (or longer
more economical ones, too). There is a large glory hole section, a lounge and exercise gym, but not much secluded open space to watch the 3-4 porn videos constantly playing except in the hallways. The showers, steam and dry saunas are adequate but a bit old and most people wore sandals because I suspect that athlete's foot fungus abounds. There are many places to sit either except inside the saunas or outside, although there is a small semi-secluded smoking area near the entrance.
It's really worth a try if you are in the Atlanta area. I am wondering now if they will rent out the facility or at least parts of it for a private gatherings, like an club orgy or maybe a CMNM sexual role-play event - just a thought.
However, what makes it a must-return sexual rendezvous for me was the fact that I could stay the night and also use one of my two out privileges (leaving the place without giving up the room) and visit Swinging Richard's all-male strip bar about 15 minutes away by car. Tuesdays is also reduced entry to Swinging Richard's and you'll more then enjoy the hot beefy hunks, chocolate skinned thugs, manly dudes and cute twinks who dance until very late (3 am?) and eager offer to give you public lap dances at your table, semi-private and also very private lap dances.
I have to say that I really appreciate the dance naked Tucker. He wasn't all that young but he seemed so totally genuine and liked what he was doing unlike several of the male dancers. Tucker has an unbelievable smile and charm about him that have kept up his popularity even while his body is showing the signs of advancing
gradually to his middle years. More importantly, he has a good personality and seems to know how to please men without being condescending or pretentious. I wasn't drunk at all so I'm NOT raving about Tucker from the effects of a drunk stupor. There were also quite a few men of color: Black, Hispanic and maybe even Middle Eastern (or Greek). Tucker is blond, VGL, and white, but I don't hold that against him (smile). The two young 18+ twinks were really hot, but once I had tasted Tucker's manly desires (no I didn't go for the private lap dance ($140 minimum for 15 minutes), I simply could not even look at the other boys, except, of course, when they were on stage in various stages of undress until full nudity (some of the dancers did not go for the Full Monty). I hope Tucker hears about this and reads my review. Contact me if you do. I'd love to take a raincheck on a separate date with you, Tucker.
Read more reviews elsewhere about Swinging Richard's. I thoroughly enjoyed being rubbed and fondled by a
naked hunky man in the VIP lounge. Yes, it's all about cash.. but I admit that it was incredibly fun spending it in this way. I was certainly heated up by the time I returned for a late-night fuck-a-thon back again at Flex. Not surprisingly, there was plenty of sexually unsatisfied men who had hung around until 8am so that I had plenty of reason to get up and get more action from 6am-8am the day I left Atlanta fully satisfied with many blowjobs (given and gotten) and plenty of ass too (yes, both ways). The guy who brought me off early Wed morning wanted to get fucked through a glory hole. I'm glad he did because I had done the same thing with a stocky Mexican dude in the outdoor garden 8 hours earlier.
I can't wait to plan another sex trip to Atlanta again. Want join me this summer, July and August 2015?