Being Naked in front of other Clothed Guys
What is CMNM?
CMNM = clothed male / naked male. It is a mild to extreme form of erotic stimulation that a male gets from being the naked one in front of other clothed men; or when a clothed male gets aroused by being in front of a naked man or several nude ones.
I've been active in trying to organize online ( with blogs, sites, groups) and also locality-based offline events for a while now. You'll find our CMNM blog at guysn2cmnm.blogspot.com (remove any extra spaces).
You can find the info at the blog above.
Types of CMNM
There are several major strands of the CMNM scenes.
1) Exhibitionist / Voyeur scenes -- So you can find photos and situations / experiences told from one of those perspectives -- It may be a proper event such as a triathlon - where runners strip naked while changing for another event, or your public streaking or street festival or event where public nudity is displayed.
2) Another big one is the BDSM - bondage and discipline scenes
Where guys are forced to strip and perform sexual acts for the pleasure other, mostly clothed men; in any case, there is an element of domination / control or submission / coercion without or not any 'pain'. Often NM admit to wanting to be humiliated.
3) Innocent or accidental buddy CMNM -- These are situations where gay and/or often straight men are unintentionally or accidentally nude or perhaps sometimes acceptably naked in front of other clothed men: camping, sports teams, the gym locker room, communal showers, etc
4) Genre CMNM or a categorized fetish for one type of situation or clothing and the lack of clothes -- such as a medical fetish, nudity in military situations, male striptease performers, erotic massage, etc. When the situation or specific object itself assumes an importance in the sexual gratification we can call it a CMNM fetish or genre of CMNM - for example, some guys crave being examined naked by a clothed doctor or start utilizing male sensual masseurs because of the erotic stimulation of being massaged by a clothed male while naked.
General Info about CMNM
Obviously, a person can have strong feelings and desires for more than one type of CMNM and the boundaries do overlap or blur.
The latter one especially is not strictly defined but it is often recognized as the 'only' type by the general population.
Not everyone who is interested in or turned on by the CMNM scene is gay, bi, or curious. CMNM is not simply a homosexual form of behavior. Actually, there are plenty of straight guys, who consciously or even subconsciously get some satisfaction from being naked or clothed with other naked men. Maybe they are just horny or starved for affection. There are also women who are turned on or intrigued by reality of a man being naked in front of clothed men and/or clothed women (or the reverse). Whether this nakedness is natural, socially acceptable, expected, forced on them, or totally exhibitionist, it generally involves either sexual arousal for the naked guy or the clothed guy(s) watching or for both. Such is the magic of this complicated scene - CMNM.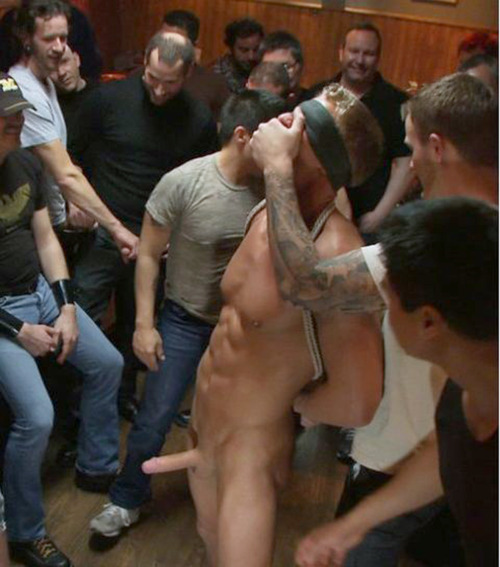 It's really a sexual preference lifestyle issue, but some would call it a sexual fetish or perversion. However, in many ways, male nudity permeates almost all aspects of male-to-male relationships and influences the nature of masculinity and what it means to be a man.
Men use nudity and exposure of body parts or genitals to communicate affection, friendship, camaraderie, power /control, and even distain or disgust.
Being aware CMNM scenes and being turned on by them is subconscious for most males. We're just a select few who have recognized it as a separate way of psycho-sexual interaction and, for some personal or social stimulation.
Once you think more deeply about it, you'll be able recognize and see its effects in buddy-to-buddy friendships, sports and athletic camaraderie, male-bonding and growing up, rites of passages for young males, social events, public and private clubs and social organizations, schooling, and especially in the past - even the constant girl-chasing pack mentality of romance, male lust (and sex) and the antics and rituals associated with those. More recent acceptance of gays in society has meant that 'guy-chasing' and the behaviors around that once secretive activity are becoming more known. So CMNM (like CFNM - "clothed female-naked male") is becoming a recognized category of human sexual activity.
Finally, there is a fairly new porn site:
www.cmnm.net
which seems to be patterned after the more common CFNM type of porn sites.
You can find out more by visiting the CMNM blog at:
http://guysn2cmnm.blogspot.com
or see our resource pages.
You can also join one of our social networks listed there (including a private one here on Tribe.net). You can join for free and simply register using an email address.
However, you need to get an invitation from a Tribe friend who belongs if you wish to join the private CMNM tribe on Tribe.net (You can pass along your email to me in a private message so that I can send you an invitation).
Cheers and dare to stay bare...