LIST of my blogs and sites at: http://seefallus.tumblr.com/myotherblogs
LATEST UPDATE: ------------------------------------
See new Facebook event page sponsored in part by the new Facebook group: Guys Into CMNM Facebook Page

Join our new GuysN2CMNM group on Celly:
https://cel.ly/c/guysn2cmnm

Visit the CMNM Group & Forum on JUB http://www.justusboys.com/forum/group.php?groupid=40

See CMNM on Wikispaces

The CMNM Site on Pridesites collects together all the parts (sites, blogs, application, links) into one set of pages.

See list of upcoming CMNM events on Eventbrite:

Check out the London CMNM Group via Meetup.com
Los Angeles M4M Strip Poker Group's Parties happen semi-regularly. See info on right --->
More ideas or info is included on my Tribe.net Blog, at my Homoerotic Antics Tribe , or at my JustUsBoys (blog) is a list of more possible CMNM events, some held, all not yet decided or scheduled, but with your help they will be.
Send in your event or ideas on what CMNM to plan, tell us about a CMNM event, or make suggestions or comments about events on the following form: CMNM Event Idea Form

Thursday, April 6, 2017
Ryan Gets His Bball Exam (College Boy Physicals)
Ryan Gets His Bball Exam.
Posted by

hardtwoholed
at 11:52 PM
0 comments

Recent post by a member of
DudesNude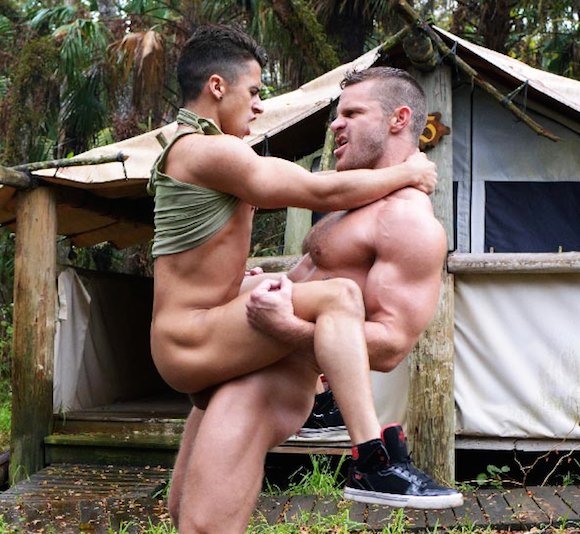 I am used to [going] backpacking and really enjoy hiking and camping too. Making a great fire and sleep under stars with the sound of the river is the kind of FUN I like but it's not a popular gay way of life. Guys like this kindof Brokeback Mountain trip only like a quick fantasy. To be able to carry a 20 kilos bag, to walk 8 hours a day, to forget comfort, eat dry noodles and soups, sweat and climb mountains --- to go to some stunning places, meet
amazing people in far countryside [is wonderful but few gay men seem to do this]… I met some straight boys during my last travels who like that but am I the only gay hiker on the planet ? WHO'S REALLY IS ABLE TO DO THAT ? Am I alone
?
Posted originally (with editing) by [

sunshiniin

]
Hiking, camping, and all kinds of outdoor recreation (especially nude) make up my favorite kind of vacation (and leisure time), but finding people (gay men) who do these at the same level, intensity and frequency that you (or I do) is usually a localized process. Not everybody has the same amount of time, stamina, self-discipline, etc or even the same purpose for doing these kinds of activities: physical exercise, self-growth, meditation, socializing, naturalist (ecology), photography, camaraderie, sexual behavior like courting a partner or just getting sex, spiritual communing with nature and other people... the reasons are nearly endless - although I find it perfectly great and by no means at cross-purposes to do ONR (Outdoor Nature (or Naked / Nude - if you're like me) Recreation) for ALL of the above reasons - but some people don't see it that way.
There are many groups for ONR all over the world but they are local -
localized to the cultural context and also localized (by language and by who's committed to them or who's leading them and how they accept of seek out new members). Check out the area where you'll be going (or where you live) to try to find them. For example, there is a fairly large (and evidently growing) set of different hiking (many times nude hiking) in the Palm Springs area. Oahu (Hawaii) has the LikeHike group, and the list goes on. Often the nudist groups (FKK, gay men's groups, etc) can give you leads or help you find people and organized events in the local areas.
It takes some research (on the Net or by asking here on DN or other sites, such a gayoutdoors.com) to find groups (or individuals) but there are 'outdoor' recreation (hiking, climbing, etc) group of people and also gay recreation groups almost everywhere that anybody does these activities. I'd be interested in helping to organize such ONR events or outdoors excursions, but again the arrangements have to be 'located' somewhere.. and we here on DN -- as is true for most any gay ( homophilic) web site come from all over the world. Still... it's nice to share the experiences about trying to find others who take outdoor recreation (with other like-minded men) as something both fun and seriously worthwhile and beneficial.
Your best bet is to find partners and trips is to look at Gayoutdoors.com and see what kind of events/hiking expeditions are being organized. It's mainly oriented to North America but not only. Another idea would get Phil (the Dudesnude webmaster) to add new categories to the search and profiles. And he might also add a new forum categories for Recreation and Sports. (including Nudism and Outdoor Recreation). It might have the added merit of getting more paying contributors. You can search for existing ones or even start your own at other well-known and well-developed sites gay social networking sites.
I find I spend more time on Flickr or Tribe.net or Justusboys.com because their audiences are larger (potentially) and the efforts at communicating are not lost in a random pile of unrelated thread (like this message will be). MySpace, Gaywatch, Dlist and other sites just don't seem to engender good group communication for 'rounding' up men who share a passion for outdoor recreation (hiking, camping, climbing, snorkeling/diving, etc).
Posted by

hardtwoholed
at 9:08 PM
0 comments