I promised (myself) that I'd write a review of Timberfell Lodge, the outdoorsy gay resort in the foothills of the Great Smoky Mountains of east Tennessee. I posted an earlier Tribes blog post about the event,
Before the great memories fade completely, I'll try to get some of what occurred there during my first visit to Timberfell. It will definitely not be my last time to go.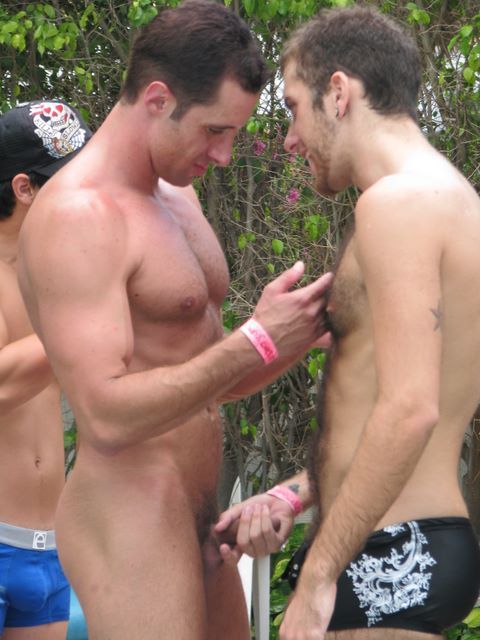 SPECIAL NOTE: At a later time, I will come back to the topic of what kinds of CMNM situations I experienced at Timberfell Lodge, and also explore the idea of a real CMNM weekend event there in the future more in details in a later post. Any ideas in the meantime are certainly welcome! Send me an email or write your ideas in a blog comment.
* Timberfell Lodge would make a great venue for a Daddy-Boy Retreat, a CMNM Weekend, complete with circus tent for live role-plays and exhibitions. I understand that a Daddy-Boy BDSM Event has been held there in the recent past. I'm going to try to get one started there for next year -- hopefully in August (between Mr. Timberfell Contest Weekend and Labor Day) -- perhaps in conjunction with these or other existing annual events, or at one or more gay campgrounds in North America. Any suggestions or recommendation would also be greatly appreciated.
Why Timberfell Lodge proved to be a great gay getaway in the backwoods of East Tennessee
Although it is located in rural Tenn, there is most everything you'd want to the resort grounds: dining room, variety of accommodations, plenty of men of all ages, body types, races, persuasions, and passions, lots of nooks and crannies for anonymous sex, great sense of community, isolated for complete nudity, reasonable rates, exciting home-spun events with enough technicality to be enjoyable,... and more. I visited it for the first time on Aug 13-17 which coincided with the Mr. Timberfell Contest Weekend of events.There is still time this season (Summer 2010) to camp out - although they do have rooms and a bunk-bed dorm for the less outdoorsy.
Labor Day Weekend is one of their biggest events, and the last major one before the pool closes later this month, followed on by their annual Cocktobear-Fest in October.
What's hot and what's to do?
1) Bears galore - If you're into them, you'll have a large assortment to dazzle your fancy. There are other types of guys too.. like me (gray fox), and otters, panthers, and wily coyotes, too. There are NOT too many twinks, however (awhhh!). When I attended the Mr. Timberfell Contest Weekend, there were only 4 young men (20s), who were there because one of them (a hunky stud) was competing for the title. I'd say the average age is 45 - and there are plenty of older men, and quite a lot of younger ones 30 - 45. But only a few below 29. I did meet a 20 year old who was into older guys, and a 70 something into younger. It's all relative.. after all.
2) Location is isolated so you can go nude anywhere on the resort (except the dining room),
3) Festive atmosphere for the weekend events,
4) Bar is open to outsiders, day visitors, and to guests
5) Sex is not guaranteed but highly likely if you've got what it takes (smile). Public sex is not allowed but there was plenty going on in the private areas.
6) Nice facilities - byob for wine/liquor, cannot bring beer but can buy it there, the food served is like home-style buffet - if you're not really a camp-style cook, pool and large sun deck, sauna, steam room can get active - especially at night - they open all night for your pleasure (smile).
7) Best thing was meeting the great guys - I had great conversations and still managed to get off at the right times. Wink!
Costs
: Check it out online - but campsite $15 for 1 person per night, breakfast $6, dinner $20, poolside beer $3, snacks $3.
Accommodations:
From camping (in a tent or camper), to a bunk in the bunkhouse, to a room with shared toilet, to a fine private room with private bath. It's all up to you! They have events all year long - even when it's too cold to camp outdoors.
ADDED Bonus: The events are not very expensive, and day-guests are abundant on weekends. Also, there is actually a community of gay men who live (and a few work on site) at the resort full-time, particularly in the summer months. There are rentable trailer and RV sites for those who want a live-in gay nude resort experience 24/7.
Find out more at:
www.timberfell.com/home/
| | |
| --- | --- |
| | Maybe we can get a group of interested people from Tribe.net or the Guys into CMNM social network groups to convene for some down-home fun and good times. Hey, ya'll come, y'hear! |