My shorts are falling down An original story by Thorn
It was forwarded in a group message from: Thorn on his [thorngay] Yahoo group
I do like showing off in front of friends. I enjoyed being the centre of attention and the feeling of all all eyes being on my body, working out whose eyes are locked onto my body and seeing the reaction.
At the same time I am a little reserved. Usually these shows would involve nothing more than taking of my shirt, or walking around in my boxers. But, I would enjoy teasing and showing as much as possible but without actually being totally naked. On this particular day Tony, Mike and Joe had come round to my house. They are really cute sexy guys. Tony is 19 and the other guys are about the same. It was a great day, so we were out in the garden. I was wearing shorts and a T-shirt, but because it was a nice day I decided to lose the T-shirt and, yes, I enjoyed the way the eyes locked onto my body. They seemed to enjoy the show. We sat there for some time, when I asked who wanted a beer. The response was enthusiastic and immediate.
I toddled off back to the house to collect the ice cold beers and realised that, without a belt, my shorts were sliding down. I hitched them up. Then I hit on a plan. Dare I let them slide right off as I took the beers back? My hands would be full, so I couldn't do anything about it. The more I thought about it, the more excited I got. I dived into my room and removed my boxers, so I could go commando... much more exciting. I grabbed the beers and, before I could lose my courage, I loaded up both hands with the four beer glasses and headed back out to the garden. To my delight my shorts were heading southwards.
It's a really sexy feeling as they slid down onto my hips. I could see that my friends were trying not too look totally transfixed... but clearly were. I could feel that my shorts had now reached the point where, if I move any further they would slide right down. At the same time I could not do anything to stop them as I was clutching four full beers in my hands. I cannot deny this was (a) extremely
arousing and (b) what I had hoped would happen. I stopped still. Tony, Mike and Joe were staring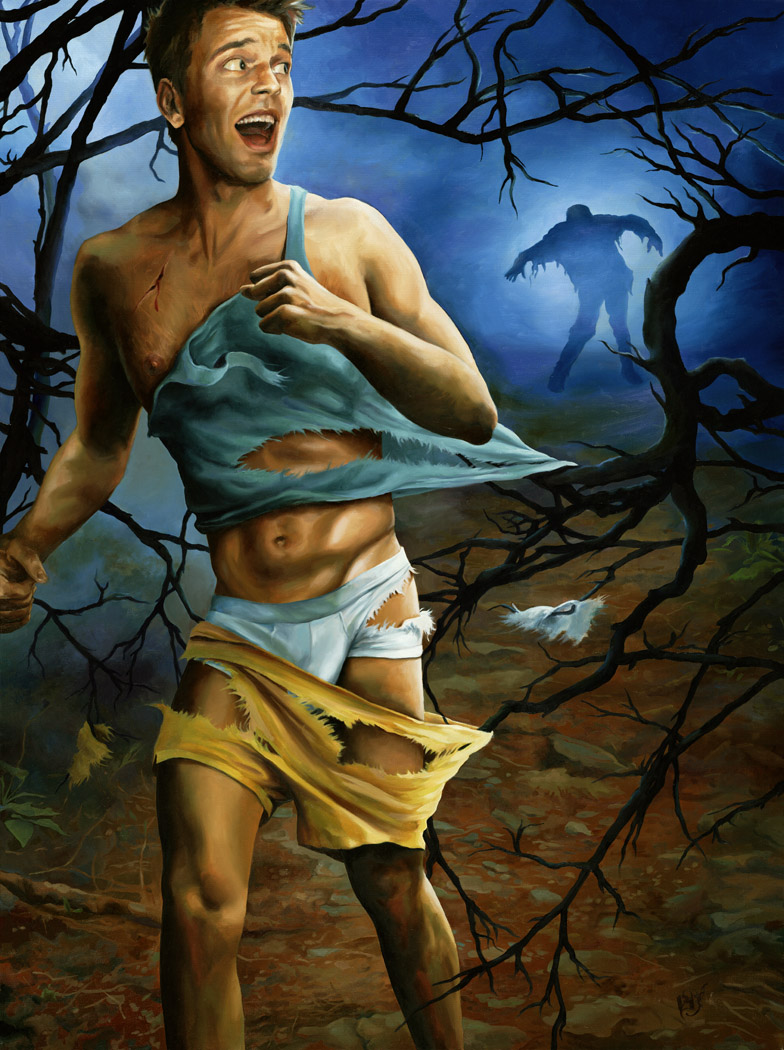 and giggling. Tony leapt up from the chair. Was he going to take the beers so I could hitch my shorts up? I kind of hoped he wouldn't. Tony came towards me, his hands stretched out to take the beers.
Damn! Then Joe said "pull his shorts down" and laughed nervously. "Steady on," I grinned. Hoping it was a playful enough to encourage Tony that this really would be a laugh. It worked. Sure enough Tony laughed, ran behind me and gave the waistband of my shorts a quick tug. The slipped down round my ankles. I was totally naked. I was outdoors, which makes being naked even more exciting. And my mates were totally transfixed. I could feel their eyes boring into me. My dick already a little hard and was getting harder. Still carrying the beers I stepped out of the shorts and walked toward my friends completely naked.
At that point, Joe picked up his mobile phone and started shooting video of me walking towards him naked. What happened next was amazing. When I got to Mike to offer him his beer, I guess the proximity of my hard dick was too inviting. He took the opportunity that I could not defend myself to grab my dick. Needless to say this produced an instant boner. I felt no desire to go back for my shorts but sat down with the guys, my dick still semi hard.
After a while, Joe stood up and, to a rendition of the "The Stripper" from the rest of us, he stripped off his t-shirt and shorts, then his boxers. Joe's video then got circulated and my naked antics became quite well known among our class. At parties I was always being asked to show more flesh and occasionally I did. That afternoon had made me less reserved. I had also made three great friends with whom I messed around even more.
.