There was a recent discussion on Dudesnude.com
on the topic of gay men's attraction for medical doctors and physical exams.






Original poster was a guy from Denver:




03 Nov 2011, 00:03
Ok here goes... I have this fantasy of getting a physical exam by a hot doctor or male nurse. I'm told to undress and then am examined / touched all over. I'll probably pop a boner and be a little embarrassed about it, and it would be so hot to see the outlines of a boner in the doctor's or nurse's pants.

However, the obvious problem is finding said medical professionals to play out this fantasy with, since it's likely a liability issues. So... I'm kind of at a dead-end and not quite sure how to proceed. Maybe there's a site somewhere that caters to this? I don't know... just throwing it out there to see if anyone could at least point me in a direction.



Follow up:
03 Nov 2011, 00:08
I love that idea too. I've always had a thing for being examined by a doctor...







Follow up:
03 Nov 2011, 01:41
It is all mostly the realm of fantasy...

However, before I met my partner he had an experience worthy of a short story. He had prostatitis. The doctor's remedy was to stick his finger up my guy's butt and give him prostate massage with hand job. So these fantasies do have some basis in reality. (By the way, this doctor ultimately lost his practice and now sells real estate.)

Another friend of mine went to one of those "no appointment needed" medical centers to get some quicky exam and documentation for work. He also got a hand job.

I guess I need to get a new doctor!


Follow up:
03 Nov 2011, 09:33


Medical exam sex or a doctor's physical that goes beyond purely examination is a frequent fetish / fantasy among guys into CMNM (clothed male / naked male) scenes. So you can find guys and also stories/photos etc related to this medical attraction on such sites and social networks. (BTW, I'm the admin for several of them and also publish the Guys Into CMNM blog (guysn2cmnm (dot) blogspot (dot) com)
This theme is popular among a few gay porn studios, namely http://www.collegeboyphysicals.com/, but you can see some of the their photos and video clips at
JustUsBoys.com
You might also be able to find specific guy into this by using either RECON (a gay fetishist site and iPhone app) or at GearFetish
http://www.gearfetish.com/
In addition, there are some tribes (public or private groups) on the alternative social networking site,
Tribe.net
. I can invite you to some of them if you contact me (and give an email address for the invitation).
I work at a medical and health sciences university which has two hospitals on its campus - so it's a theme/attraction (not exactly a fetish for me) that is near and dear. Also, when I stayed in a hospital once, I found it very stimulating to be kind of bed-bound (not I wasn't strapped in but just couldn't move about freely), and to be examined by a young handsome doctor every day. I made sure to never wear underwear or anything but a loose fitting gown so he could have easy access, so that I could be 'accidently' nude. It was fun when there was a male nurse during the night shift, but I would sleep as nude as possible and allow the covers to fall off. Evidently, nurses are not embarrassed by much - because he'd just cover my erection with a blanket without hesitating to 'observe'.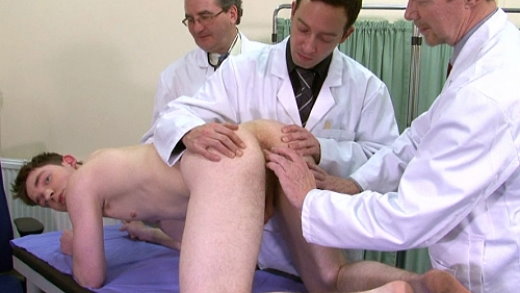 Also, I have a friend/sex buddy who is a doctor (a cardiologist) and it's fun 'playing doctor' with him, but oddly enough, he's not really into that aspect of it.
I've wanted and even attempted to organize locally and internationally some CMNM events in which doctor-patient examinations would be one of the role-play sensual / sexual activities. So if you're up for the idea, we could start working now on holding such an event (somewhere reasonably convenient). I can travel (up to a point) almost anywhere.
I suspect that there are hundreds of gay men (and plenty of straight men who get off having a female nurse or doctor examine them).
Fight prostate cancer, ask a doctor (or horny friend) to examine your prostate inside your hole! The best way to become quick and 'deep' friends is penetrating someone body cavities with a finger. The stomach is not the only way to a man's heart (LOL).
Nothing can be compared with hot gay medical examination - for some of us who are CMNM (clothed male naked male) fans.
NOTE:

This entry is a compilation of excepts from several gay medical fetish sites, including the photos.
You have never seen such fascinating CMNM scenes anywhere as those in a hospital or medical clinic. Maybe some twinks didn't like to visit the doctor's office earlier. They are
embarrassed or reluctant because they think that they may pop a boner once the doctor starts examining them. But after an incredible sexually enthralling visit to a doctor who knows just how toexamine them thoroughly and to make them relaxed and sexually satisfied, I think they will change their attitude about being with an older and clothed physician.
After seeing so many twink medical exams, many things will change in your mind too. It is impossible to be calm witnessing how these twinks take off his clothes and then the intelligent, sexy doctor starts to suck his stiff cock. They even try sixty-nine, sucking each other's dick with uncovered pleasure right in the doctor's consulting room.
Are you interested in hot gay medical CMNM ? It is high time to relive all your secret desires. It is hot to see handsome boys get undressed for the doctor and then seeing them get so horny that they just have to have gay sex.
It's great too when the muscular athletic boys go to visit a doctor with the coach, who is dying to see his young team get naked and willing to offer hard dick and hot wet holes to their athletic mentor. The boy doesn't know yet what incredible adventure it is going to be there. He comes to the doctor's consulting room and takes off all his clothes. The lustful doctor doesn't waste time and starts to caress genitals of the twink. It is pleasure to watch twinks'
medical checkup. It seems the boy doesn't object to take twink medical exam. His cock becomes bigger and bigger. Then the boy lies on bed and horny doctor sucks his dick, play with it by his tongue.
Every time nasty
college guys
walk into the
examination room of a medical checkup they lose their minds when what they're told what to do there by irresistible authority of the doctor. Sure, male doctors
clothed
in green scrubs or a white medical uniform force naughty young guys to do these things because they love watching
nude guys
pose for them, and obey their every command to expose various parts of their anatomy and to submit to manual manipulation of their bodies and genitals.
Of course, the horny naked young dudes love when they have their
naked bodies
examined all over so that they are craving to have their dicks sucked and asses banged hard by the naughty
clothed doctors
I think we all enjoy witnessing cock-loving physicals satisfy the wildest and the dirtiest of their dreams together with young inexperienced college guys.
What about you? Did going to the doctor and being physically examined as a teen by a clothed (older) man leave an impression on you? Or even cause you to think about being attracted to males. Do you think it was especially sexually stimulating because of the fact that you were naked and he was completely dressed. That's the appeal of CMNM experiences.