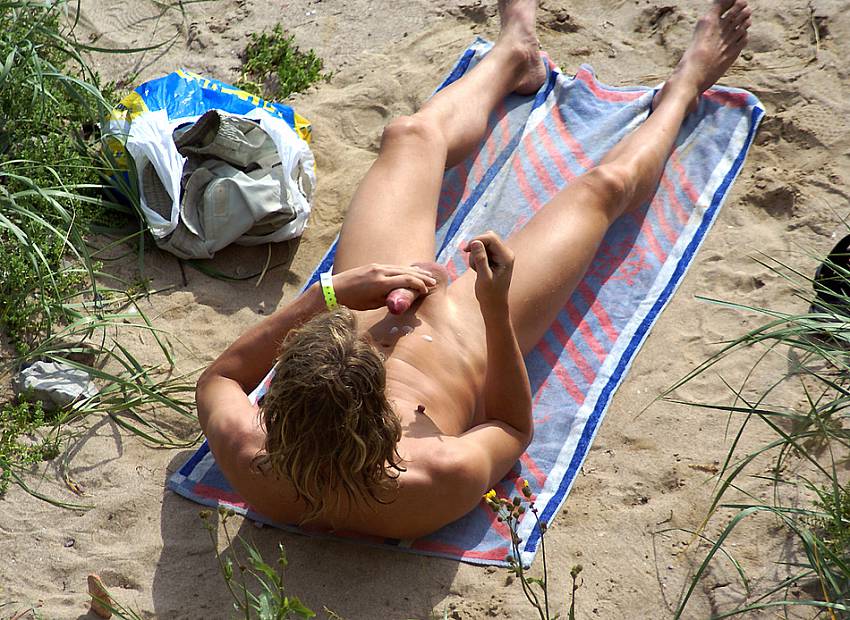 The Nude Beach
This was originally posted at the following site:
http://www.menonthenet.com/EroticStories/index.cfm?m=article&ArticleRecId=296025
Last summer, I was doing my usual bike riding. I was really horny and on the Internet talking to local studs from Reno/Tahoe area. I had heard talk of there being lots of gay men at so I thought that I should try it out one day. I decided to ride my bike there since it was nice weather and about 10 miles out of town. I walked down to the water and at first saw a small cove with lots of people talking and men and women. All fairly old to me since I was 18.
I continued walking around and noticed that at the southern end of the beach there was a peninsula where it became all rocks. I walked over that way and saw only men. Not a single woman. Boy were there some hot studs out and about in the nude. They were all sun bathing not even caring about each other and putting on that nice tanning oil all over their cocks and asses and everywhere else. I continued to watch people and eventually noticed that some people were walking around about 100 yards from the water in the woods.
I got curious and decided to check some of them out. There were about 5 Really hot ones. I was already turned on. Luckily I wasn't nude and neither were the dudes that were wandering. People were only nude when they were on the rocks to sunbathe.
I decided I would try to pick up on the guys. So, being a normal guy, I acted like I was
scratching my cock oblivious to the world. I noticed that the guy had stopped and he watched me. So, he did it right back. I was in heaven. I did it again and so did he. We both walked a little bit closer together. We were fairly sheltered from people being able to see us so I just started to jack off through my bathing suit and so did he.
I decided to really make the move and I walked over to him to get a good look. He was so fine. About 25, 5'8" (somewhat short), well toned muscles, probably around 165 pounds, a face to die for, a butch cut haircut with dirty blond hair, and the bubble butt to die in.
I said to him. "He man, how's it goin' today?"
He replied, "Good, just thought I would bag me a few studs while I was sun bathing."
We started to talk and decided to head farther into the woods. He knew some places to go because he was a regular here. We went up to a few rocks where we were completely hidden. I got down onto my knees and reached up for his long, sensuous, 8 inch cut cock. He had nice, low hanging, monster size balls. I immediately started to take each nut into my mouth while slowly jacking his cock. I started giving him the best blow job he had ever had. I couldn't believe how horny he was. He started to shoot a load right then onto my face, in my mouth, and onto my chest. I started sucking it up and he started to kiss me.
His cock never went soft though. I continued to suck him while he was moaning. I got a new position so that I could be in his ass with my tongue. I started finger fucking him and tongue fucking him. Then I stood up and started to kiss him. Then he took my fingers and started to suck them so that he could taste his own sweet ass. Then, he set me on all fours,
and started to eat my ass. He was in there like a madman who hadn't eaten in weeks. He was fingering me and fucking me and occasionally taking his hand and sticking it in my mouth so that I could suck on his nice long fingers.
Then, it was time, he stood up, placed his hands on my hips, and started to thrust in. He slowly pushed in about half way. Then he pulled out all the way and jammed his nice cock up my ass. Oh, it was so nice, I was in ecstasy. He started giving me the fuck of my life, in and out, pumping me so hard that I thought my ass may rip. Then he decided his cock wasn't feeling tight enough of an ass so he put two of his fingers in while he continued to fuck. It was an indescribably good feeling.
He finally pulled out and shoved his cock in my mouth, it tasted so good. There was a mix of jizz, sun tan oil, and my ass juices on it. I was sucking for all I was worth. Then he noticed I was about to shoot. He got down and started to suck me. He wasn't nearly as good at sucking as he was fucking. He sucked maybe 1 minute and it all shot. I shot load after load into his eager mouth. He kept his mouth shut and moved up to my mouth. He started kissing me and I got a whole mouthful of cum. Then, before I knew it, his cock was in my mouth shooting his hot jizz and I was in heaven. He kept shooting for about a minute that there must have been a pint all over my body and face.
Then, he pulled out of my mouth and started kissing me. We eventually got soft and that was when I noticed that he was the local ranger. Ever since then we have been fucking and sucking our nuts off about 3 times per day. Boy do they know what they are doing!