When I was a college student, I pledged a professional fraternity in my fourth year. So I know what kind of shit the pledges can be made to go through. Although I wasn't made to suck or get fucked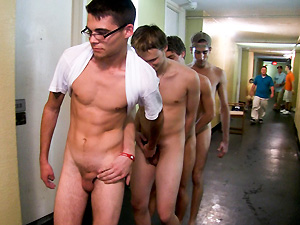 like these 'so-called' pledges, I did have to hold a banana in my mouth and ram it toward the asshole of the guy in front of me as we crawled around in a circle on the ground. It felt miserable at the time, but it has been the source of many of a hot sexual fantasy over the years - probably because I was forced to be naked (along with 5-6 other pledges) in a front a group of straight clothed men.
Nobody wants a face full of balls, especially when there is frosting on them. But frat boys will be boys! Hazing wouldn't be complete without forcing pledges to suck dick and get their newbie college boy asses fucked!
Video Sample #1
-
My Frat Buddies Like to Kick Back With Some Beer and See What Happens. I Invited over a
Cocksucker and We All Took Turns Fucking Rad's Ass. With Three Cams Rolling,we All Boned This Butt Boy's Ass.
http://www.justusboys.com//video/70434/792/Fraternity-X/Six-Load-Gang-Bang.html
Video Sample #2 ---
A bunch of horny college teens were hanging out when they took things back to the dorm.
Apparently this one hot chick gets off on watching guys go at it.
http://www.justusboys.com//video/70150/729/Dick-Dorm/Buck-Wild-part-1.html
Video #3 Toga Oiled Frat Fuck
The capa boys are prepping for their toga party by having their pledges wrestle, the loser gets the DICK!
http://www.justusboys.com//video/131254/729/Dick-Dorm/Toga-Party-2.html
End