The following are a collection of stories and confessions (some of which may not be true
or only partly false). They were retrieved from a public forum on gay incest and father-son
relationship at the JustUsBoys.com discussion forum.
You can read these and more of the older forum posts at:
First off - yes, I am a new member. I've read the entire topic and I know first-posters are under certain suspicion, but a recent poster did bring up the good point that people with fewer posts probably are the ones sharing their true experiences while those with many are more likely making up some (though a few of those could still be true).
So since there's no way to prove this is true, of course, I'll just get on with my story and hope y'all enjoy it.
Yup... I have had sex with my dad, and it was a relationship that lasted maybe three months right before I moved out when I was 18. For a couple of years before that, I had moved into a fetish of watching incest porn, and while I'm into straight sex too, I'm primarily gay so the father-son incest really did it for me. Naturally I started thinking about my dad sexually, but I had read
about male homosexual psychology and how it was very common to have those feelings, as well as straight men for their mothers and so forth. So I stuck to jacking off and never made any moves on my dad.

Right near the end of my first year at university, I was coming home through the back door where the computer is, and there's a window right there so anyone at the computer can see anybody coming up the back stairs. Dad must have been a bit too engrossed in what was going on on the screen, of course, since he didn't notice me until I walked into the kitchen and started taking off my shoes.

He turned around and I was able to see the screen, which had a porn video on it. Straight as straight can be. He jumped a bit when he saw me, but he had all his clothes on, so I made it humorous and said I'd take off my shoes in the porch so he could finish watching.

I did that, and came back in and he was already logged out. He apologized and said that he had been searching for "red neon tubes" when he accidentally came across a porn site that specialized in coloured condoms lol. We had a laugh and then I went into my room... I wasn't too bothered or anything, but I was honestly glad to see him watching porn since I'm a healthy believer in sexual activity no matter your age.

In my room, I'm on my floor sorting through notes and stuff when he comes in and stands in the doorway. I thought he was feeling guilty, so I just told him what I thought in the above paragraph, and he appreciated that. Then he hesitated and said he wanted to tell me something... and it was right here when I simply realized what was going to happen. I knew he was going to ask something personal, sexual... I just KNEW he was going to ask if I wanted to have sex with him.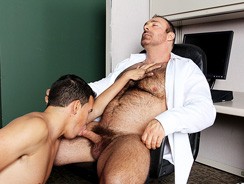 He didn't get to the point right away, but said first that he loved me very much and was proud of me for taking university, a job, and moving out all together and being in charge of my destiny when he and my mom had supported me all the way. He was glad to see me off, but wanted to have as few regrets as possible... and also reassured me that I could ignore him and we would never need to speak of it again. By now I had no doubt what he was going to ask.
"[name], I'd like to have sex with you. Yes or no, or think about it, or never speak about it again. I'm your father and I respect you, and I want to experience this with you."
(Sound artificial? Well, yes, kind of. He's a logician and so am I, so we're like that when we know the wording has to be careful in a conversation. Again, this story is true or not depending on what you want to believe.


As well as being a logician, I'm pretty skilled at putting aside emotions and getting to the heart of the matter. I wanted to be totally clear we were on the same page... and my heart was pounding and my mind was telling me not to be silly, that it was perfectly clear what he wanted and it was what I wanted too, just once... but I asked him anyway, what exactly he meant.

He was blunt - "I want us to blow each other, be naked, have sex, cum together, and so forth. I want to do this with you. I've watched videos so I know how to do it."

At that, I kind of cackled because it was such a silly and funny thing to say and it was just like my dad to say that. And I knew what we were going to do. I immediately stood up and let down the blinds over the window, then said, "Do you want it here or on your bed, or...?"


He said, "my bed," where I had slept with my parents when I was too afraid to be alone... and now we were going to fuck in it. Here was where I kind of caught my breath and he looked worried.

"If you are really not sure about this, you need to say no now. You can say no at any point and we'll stop, but better now than halfway through."

"No, I want this. I've been thinking about it for like years now, and it's just crazy right now because I can't believe I'm getting this."

He told me he couldn't believe it either, and we both smiled and went to his bed, just across the hall (small house, one floor). Once there, I also pulled the blinds over the window and then we kind of looked at each other across the bed where he and my mother had no doubt fucked countless times... and she was out of the house all day, so we knew we wouldn't be interrupted if we really went along with this.

My dad suggested we get naked now so that we don't have to worry about it on the bed, which
would be hard for him to do since he was overweight (I don't have a thing for large people at all, this was just my dad). I was fine with that so we took off our shirts, always looking at each other, and then I took off my pants and socks while he took longer. Both in our underwear, I decided to slowly strip my underwear, which he loved and said,

"I've dreamed about this so many times... I know I'd be called a pervert, but it's just something I can't control. I can't believe we're going to do this."

My cock came out of my underwear and something must have snapped in his head, because he just came right around the bed and pushed me onto it, face up, and buried his face in there. He didn't blow at first, but he got to that right away, and I loved it. Really, it was a blowjob like any other, but I watched it and it was MY DAD. Just unbelievable. He was pretty good at it too, surprisingly...

Then he took off his underwear and got on the bed with me too, and he was actually bigger than
I had thought when seeing him semi-nude in the past. About 6 inches while I'm closer to 5.5. He laid back and I returned the favour. The head was really big and I just wrapped my tongue about it... again, thinking, this is my freaking dad! I have my father's cock in my mouth.

I blew him for a couple of minutes, and then he brought out the lube and condoms and we got right to it. I wasn't a virgin so I kind of gave him advice on how to go slow at first, porn doesn't really show that well but he had suspected so it was all good. I laid on my back and really splayed my legs and lifted up my butt so he could get in there... I didn't expect it, but seeing and feeling his big belly roll over my cock was a crazy turn-on.

He fucked me really slowly at first, gasping a bit and making me worry he was having trouble breathing. But he got it and then started really fucking me. Feeling this huge body moving over me and into and out of me was amazing. And over and over I kept thinking of this incredible fact: This is my dad I'm having sex with.

He came soon after, and I jacked off and came like 20 seconds later. We laid there for a bit and then talked about how we loved it... and he kind of looked at me slyly and said, "is this going to keep you home now?"
Funny. I was moving out in 3 months or so, and that was in stone. So we both knew we'd be doing this again...
And we did, all while my mom lived there. If she ever finds out about it, she'd probably freak although she's the best mom a gay son could want... but we really had some close calls!
Like one time dad and I were both in the living room and mom said she was going over to the neighbour's for a few minutes. So right when she left, we looked at each other and I immediately went down on him, in the armchair he was reading in while the huge window was open and the door was still ajar. He came in 5 minutes or so when I jacked him at the end, and then he had to hurry into the bathroom when I saw mom walking back up the sidewalk. Whoo.
And another time we were in the van driving away from a school event and we went down a
really abandoned alley, parked, and I got on top of him in the driver's seat and let him fuck me. (We kept condoms in the van.)

Mostly we would fuck in my bedroom or his bedroom, nice and traditional whenever mom was out of the house, but we really loved those risky ones. One time I was blowing him at the computer, sitting under the desk while he watched porn, and suddenly he tapped my head really fast and sharply so I stopped, then he pushed me back into the wall under the computer. Then I realized he was talking to the neighbour through the window, had just barely seen him coming and then called out to him to talk through the window. They talked for like a minute before I said to myself, heck with this, and went on blowing him! Their conversation lasted 5 minutes! Quite a few times dad had to excuse his weird voice for a sore throat, hah...

And now I'm living away from him and barely see him anymore, but he can drive over sometimes. If my roommate's out, we definitely get up to stuff in my room. But it's very rare now, I'm so busy now, so I consider it mostly over. Sad. =(

That's my story... hope you guys enjoyed it even if you didn't believe it, heh.